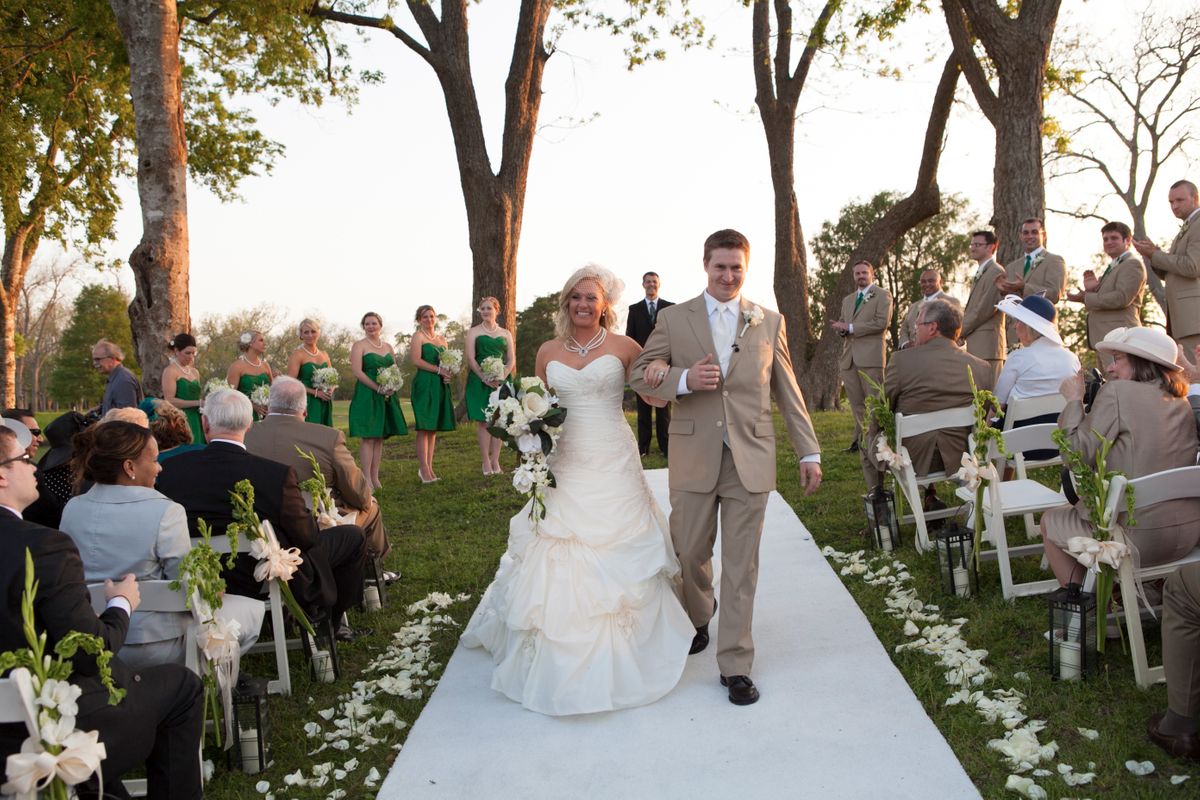 BRENNA + DANIEL {HAPPILY MARRIED!} 1
December 1, 2012
Hello happy readers!
Today I present to you Brenna & Daniel. I met Brenna & her mother about 4 months into her wedding planning. This mom & daughter was certainly a dynamic DUO! I loved them from the first minute I met them. They were super funny, sweet, & knew exactly what they wanted for their vision and needed someone to accomplish that vision.
Their theme was simple, Kentucky Derby theme, outdoor wedding with hints of Georgia , Ireland, & golf! I would say that this was truly a Southern wedding. With all the fixins' of good old Southern comfort foods of shrimp n' grits, Southern fried chicken and warm mash potatoes.
They got married on the beautiful grounds of the Sugar Creek Country club in Sugar Land, TX and had their reception facing the putting greens. They wanted to bring the outdoors in but also wanted to create an intimate feel.
So we hired the fabulous team over at TechAve to create this beautiful tent filled with soft draping throughout. TechAve worked on this beautiful tent for 3 days. It was amazing to see they transformed this empty space! Get this, Brenna and her mom Sherry purchased their own chandeliers! Yes that right! Those chandeliers were theirs!!! Angela and her team assembled them and did all the set up.
One of my favorite aspects of the wedding (as it had to do with my using my lovely aunt & uncle's amazing skill of art & precision) was the table names of winning horses in the shape of horses. After hours of research we discovered that there are no large die-cut horse shapes so we had to figure out what to do. Knowing that my aunt and uncle were amazing artists & their attention to detail was superb, I offered their services to Brenna. I am so happy she did! They individually cut each and ever horse with perfection. She was extremely pleased with the work and couldn't have been happier. Yes, a free plug for my family!
All in the all this wedding was just fabulous! Too many details to write about as they did incorporate everything from ice sculptures, horse shoe escort cards, king & queen chairs, candy buffet….and the list continues! As a super special present to her father, they hired an Irish bag-piper to guide their entrance into the ceremony. It was so beautiful and perfectly planned as the father had no idea that this was happening! There was not a dry eye in the house!
They hired two AMAZING vendors that captured the day perfectly! I am doing this in two parts as I would like to show the video & some personal pics separately.
Please ENJOY this eye candy from Bill Alewine Photography based out of Austin, TX. He was wonderful to work with captured the day beautifully!
PLEASE CLICK ON THE THUMBNAIL FOR A BETTER VIEW OF THIS WONDERFUL PHOTOGRAPHY!
Enjoy!
Sincerely,
Audrey Hu-Gonzalez
www.eventsbyaudrey.com