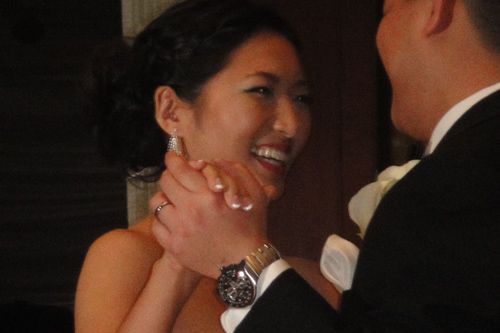 TIM + HUINA {HAPPILY MARRIED!}
June 24, 2013
Hello Happy readers!
I had the distinct pleasure of working a lovely wedding at the Breaburn Country Club. It's a lovely private club located in the Southwest Houston area offering the most gorgeous views of their golf course. With their natural settings and cozy rooms for the Bride & Groom to get ready in, this certainly was a lovely place to have a wedding.
They decided to incorporate white, navy blues, and bright green into their wedding. She wanted a soft atmosphere and incorporated much of the natural beauty of the lush landscape into her wedding. She also decided to soften venue space by incorporating some gorgeous draping & a lovely chandelier by TechAve draping & décor company.
Having a 9 course meal for her wedding is extremely important in a Chinese wedding. Also the number 9 is a very lucky number in our culture. So with that in mind, Kim Son catered this fabulous 9 course meal and along with Braeburn's great banquet staff it went flawlessly! Here are some personal images that I took. They are not the greatest pictures…LOL!
Sincerely,
Audrey Hu-Gonzalez